John Waite: An Acoustic Evening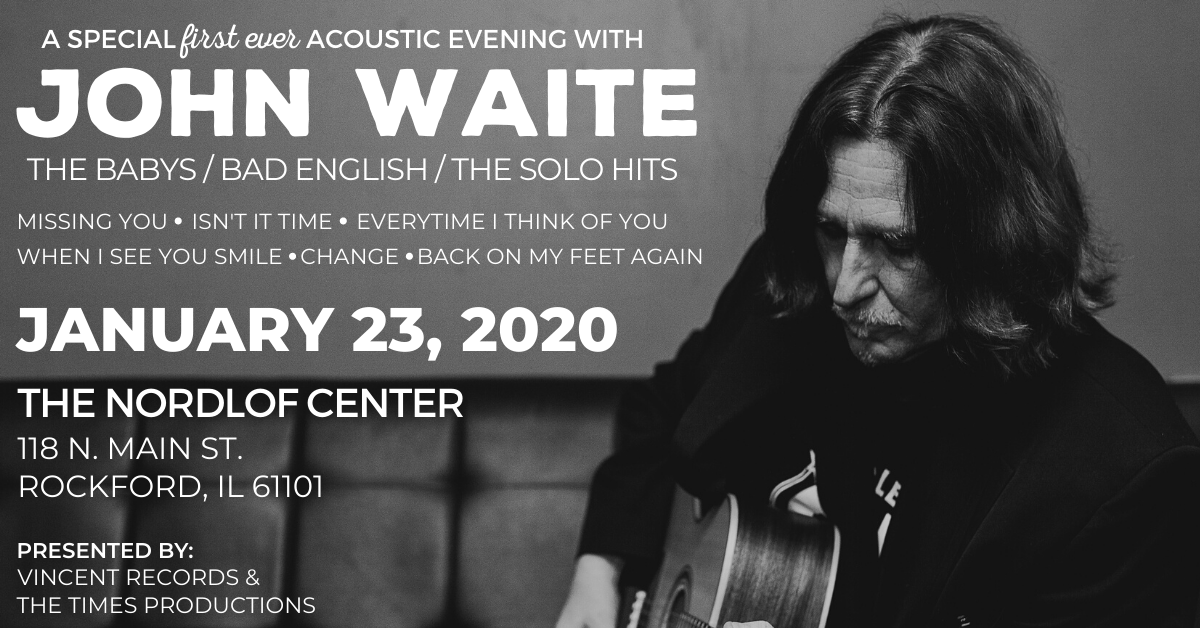 Vincent Records and The Times Productions are pleased to announce that they will be bringing John Waite to Rockford for a first-of-its-kind acoustic performance on January 23, 2020. This special duo-acoustic performance will be his most intimate show to date. He will be performing his catalogue of hits from his 40-year-long career as a solo performer and lead-vocalist for "The Baby's" and "Bad English."  
Waite was a fixture of album-oriented rock radio stations during the 70s and 80s. He had a talent for power ballads and driving arena rock, occasionally touching on new wave-styled power pop as well, which helped him achieve international success and create a legacy of songs which are still played on the radio today.
Waite's catalogue of hits features some of the most loved songs of the 80s and 90s – including the #1 global hit, "Missing You," The Baby's "Isn't It Time," and Bad English's "When I See You Smile." These songs rank amongst some of his biggest international hits and are still heard on the radio today. Some of his other hits include "Tears," "Change," and "These Times Are Hard For Lovers." 
His songs, "Every Step Of The Way" and "If Anybody Had A Heart," appeared on the soundtrack to the 1986 film "About Last Night" starring Demi Moore. The song, "Deal for Life," which was penned by Martin Page and Bernie Taupin, was featured on Waite's 1990 "Days Of Thunder" album. 
This production is a collaboration between Vincent Records and The Times Productions. Vincent Records is owned by local musician Vince Chiarelli. The Times Productions is owned by local business owner Peter Provenzano.
Event Details
Date: 1/23/20
Artist: John Waite
Venue: Nordlof Center – 118 N Main St, Rockford, IL 61101
Doors Open: 6:30 PM
Start Time: 7:30 PM
Ticket Price: $35-$50
For Tickets: Visit www.vincentrecords.com or call (815) 200-9567 
For more information, visit Vincent Records online at www.vincentrecords.com, on facebook at www.facebook.com/VincentRecords/ or call (815) 200-9567.