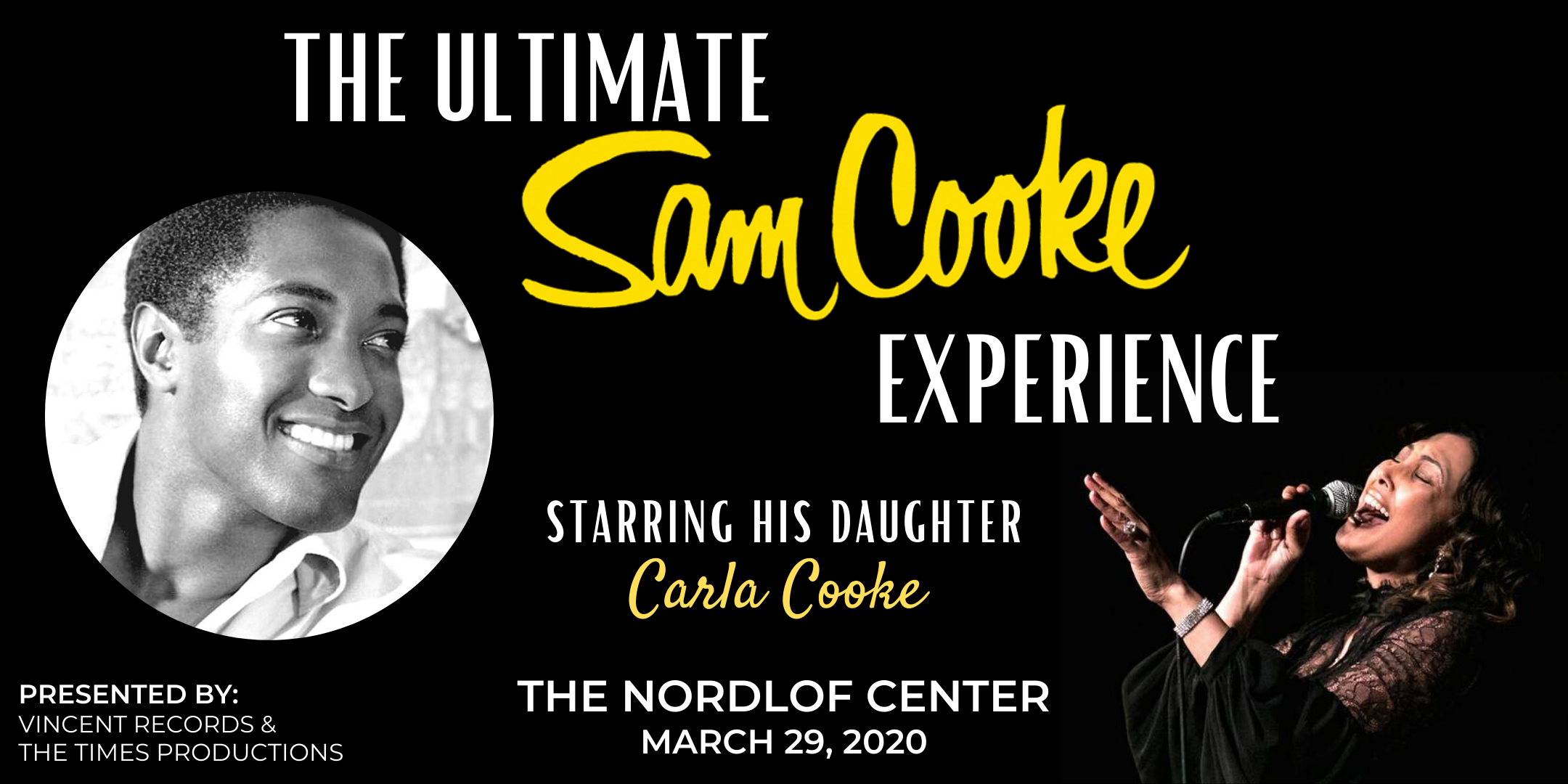 The Ultimate Sam Cooke Experience: Starring Carla Cooke
Vincent Records and The Times Productions are pleased to announce their upcoming show "The Ultimate Sam Cooke Experience: Starring Carla Cooke," taking place at the Nordlof Center in Rockford on March 29th. Carla Cooke is the youngest daughter of music legend Sam Cooke. She will be performing her father's hit songs as a tribute to his legacy in a performance that is not to be missed. Cooke will take the audience on a journey through the romance, religion, and history her father's music has come to embody.
Carla is an accomplished singer in her own right and with influences like her father and other musicians in her family, such as her godfather, Sir Mac Rice, (writer of Cheaper to Keep Her and Mustang Sally) and uncle, LC Cooke, Carla proves the apple does not fall far from the tree. Through raw talent, emotion, beauty, and charisma she carries the Cooke family torch musically into the new millennium. Like her father, Carla crafted her sound in the church. Her style is diverse in Gospel, Christian, R&B, Soul, Pop and the contemporary sound that embraces today's culture. With a strong vocal range and warm personality, Carla's stage presence commands the environment wherever she performs.
On her 2010 album release, A Time to Remember, Cooke covers renditions of her father's hit songs, including A Change Gone Come, Summertime, and Lost and Looking as well as several original compositions which she wrote.
This production is a collaboration between Vincent Records and The Times Productions, and is the third concert produced by this partnership. Last month, Vincent Records and The Times Productions brought John Waite to the Nordlof Center for his first-ever acoustic performance, and earlier this month, they brought America's #1 Prince Experience Band, The Purple Madness to downtown Rockford as well. Vincent Records is owned by local musician Vince Chiarelli. The Times Productions is owned by local business owner Peter Provenzano.
Watch Carla perform her father's hit song "Cupid" Cupid Video